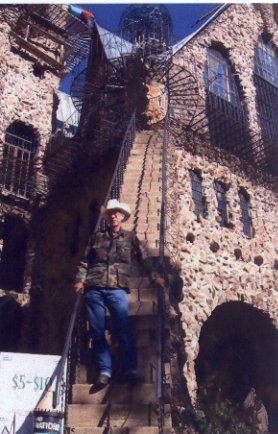 At Bishop's Castle in Colorado 2003

This is a castle which is still being built by a Mr. Joe Bishop. The man has been working on building this place for many years by himself. It has towers you can climb to 250 feet high! There are stain glass windows and rooms big enough for family reunions. It is located in the Greenhorn Mts. near Rye, Colorado. Open to the public and climb the steel stairways AT YOUR OWN RISK ! -- JD

Keven Crucabur, Pueblo Colorado.
Sorry to correct you, but it's James or Jim Bishop but all his friends just call him "The Castle Builder" and Andretta's Tower is about 160 feet tall. Hope you can return to the Castle soon. Your Castle Friend, Keven."

Received 2006/2/27

Please post any corrections, updates, or comments you have about this photograph, the people in it, or the time it was made here.