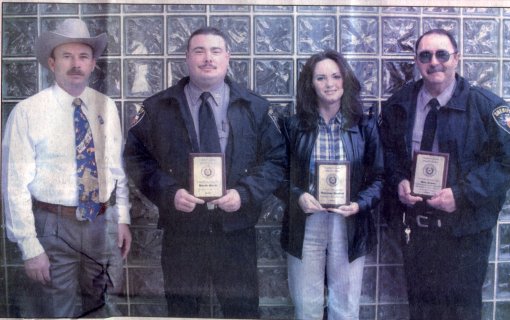 Roxanne Bedwell Warren December 19 2003
The Upshur County Sheriff's Office recently honored top officers to 2003. From left are Sheriff Anthony Betterton, Deputy Wayne Davis, Patrol Deputy of the year; Investigator Roxanne Warren, Investigator of the year; and Deputy Don Gross, recognized for his outstanding work with Upshur County children through his job as school resource officer. These awards were presented at the annual Sheriff's office Christmpas Party Dec. 19. -- From The Gilmore Mirror, Vol. 127 No. 2.
Thanks to Richard Lingle for sending in this picture.
Please post any corrections, updates, or comments you have about this photograph, the people in it, or the time it was made here.