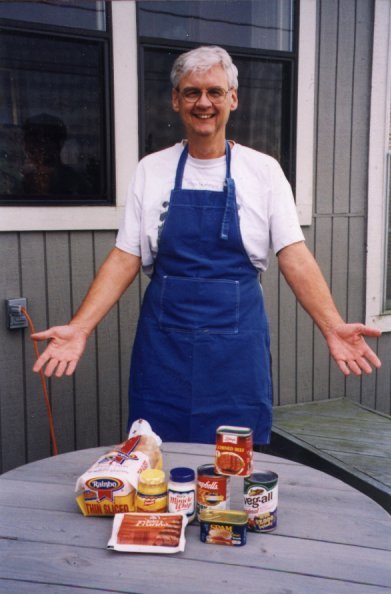 Only a few simple ingredients are required to make all of my bachelor specials.
Corned Beef and Veg-all
Here is a delightful dish that is quick to prepare, healthy, and satisfying to the palette. All you have to do is take one can of Veg-all, dump it into a saucepan, then throw the corned beef in on top of it. Heat until the Veg-all juice starts to boil, and it is ready to eat. Yum! Yum!
Lloyd's Dogs
When you are too busy to cook, like maybe you are digging a ditch for the septic tank, or changing the muffler on your pick-up, this is a fine, quick meal that can't be beat for that quick energy surge that you need to get you through the job.

Just grab a wienie from the refrigerator, wrap it in a slice of Rainbow bread, and CHOW DOWN! You'll be back on the job in no time with a satisfied smile on your face.
Pork and Beans with Spam
When lunch rolls around and you are lookin' for something substantial to put in your stomach, there is nothing quite as appealing as pork and beans, but I like to add some spam for protein. To make this delicious repast, chop up a can of spam into little cubes and then throw them in the skillet. Heat the skillet until the little pieces of spam start to burn, then throw in a can of Campbell's pork and beans (if you don't have Campbell's pork and beans, use whatever is available in your locality).

Continue heating the mixture until the beans start to bubble, then dump it all onto a plate and dig in. For variety, pour the beans and spam over a slice of Rainbow bread. If you are really hungry, use two slices of Rainbow bread, but don't forget to put a layer of beans between the two slices.
Economical Sandwich Delight
When you need a little snack to hold you until dinner time, but you just aren't in the mood for sweets, this little treat is just the thing. Take two slices of Rainbow bread, spread them liberally with Kraft Miracle Whip Salad dressing, and eat. It's finger lickin' good.
Super Spam Sandwiches
I don't know where we would be without spam. Probably would have lost the war and be driving German cars and watchin' Japanese TV's these days.

Anyway, this recipe takes some doing, but I think that once you have tried it you will agree that it was well worth it. Whatchya do is throw a couple of tablespoons of Crisco in the skillet and while that is heating up, you slice up a can of spam into nice thick slices, then throw them into the skillet and let them fry until they start to smoke, then turn them over and brown them on the other side.

In the meantime, you want to slice up some onion. You can use red onions or white onions, but in my opinion, the white onion is the only authentic onion to be used in Super Spam Sandwiches.

When the spam is browned to taste, drain the slices on a paper towel and them put them on a plate along with the slices of onion. Get yourself some Rainbow bread and now the meal can begin.

Coat a slice of bread with Skinner's mustard, add two slices of spam (placed side by side to cover the bread) and a slice of onion, then top it off with another layer of mustard and bread. Enjoy this sandwich with a can of diet coke. Repeat this process until the spam is all gone or you lose consciousness, whichever comes first.

Just try my bachelor specials and I know you will enjoy these excellent meals for many years to come.

That's all for Lefty's kitchen. Good eatin' to you.