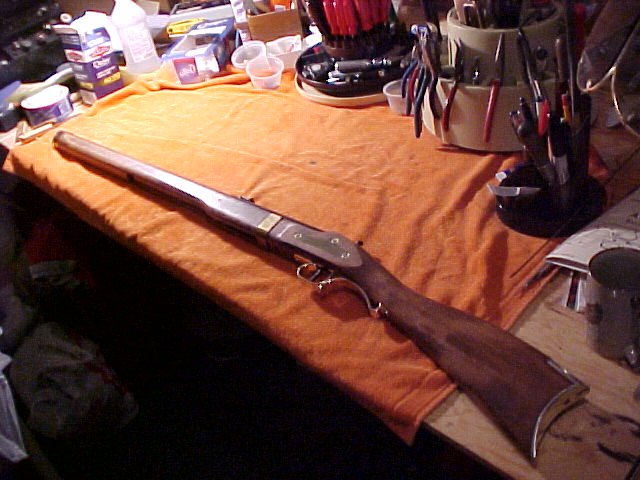 Pioneer BB76 Airgun
By Hugh Bodey
The really nifty Model BB76 Pioneer Air Gun was produced by Ultra-Hi Products Co., Inc, of Hawthorne, N.J. - back in 1976 to celebrate the the Bicenteniel of America. It was actually made in Japan, under contract.
A beautiful gun to look at, but upon closer examination, you see a lot of plastic used. The locks, trigger guard, false patch box, butt plate and false end cap of the non-existant ram rod are all made of brass colored and solid black plastic.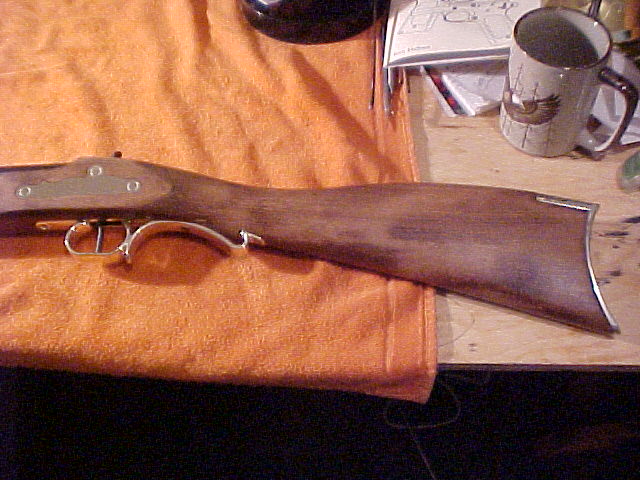 The unique feature of the functional hammer/lock assembly is that of a "safety" for the gun. One must actually cock the hammer before the gun will fire, which, other than for reality appearance, is its only purpose. How-some-ever, I have heard reports that it is not alway reliable - and sometimes fails in its purpose!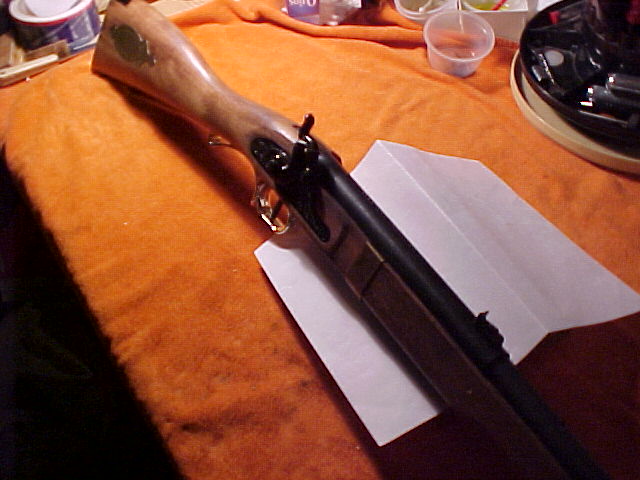 The inner barrel, or "shottube" as it is commonly termed, is of the same design as that of the force feed tube of a number of Daisy b.b rifles, only it is longer, and holds more b.b's! (50 of 'em)
The walnut stained wood stock is in two pieces, with the joint neatly concealed by a metal band clip. And the gun is cocked by an under the barrel cocking lever, long enough to make for fairly easy cocking.
As said before, it is a beautiful gun to see - I liken it to the Kentucky Squirrel Rifle, not being overly bright about all the various makes and models of muzzle loaders, although I have admired them most of my gun awareness life I haven't really studies them. I've also heard this one called the "Tennessee Poor Boy Rifle" of the mid 1800's. Call them what you will, the Pioneer BB76 are very unusual in the airgun field, and, to me, most desireable.
I own two of them at the present time - one complete and working, the other broken and badly in need of repair (which is why I got it so cheap), at least compared to the working one. Working on the broken one, however, has inspired me to build a similar gun, that will shoot harder and straighter. I admit I was rather disappointed in the accuracy level of this particular b.b gun. I had hoped, with the longer barrel, (the overall gun length is 44 inches) I'd have a light weight (4 lbs) super b.b gun that I could knock a squirrel's eye out at 90 feet - as the old song goes- but, alas, no way Jose!!! I'd be lucky to even hit the squirrel with a body shot at that distance! (Probably couldn't even see his eye, anyway!)
So, with the above inspiration, I am working (in my mind, mostly, so far) on a single shot, true muzzle loader, air gun, with all metal features on a beautiful wood stock - probably maple - in .22, or perhaps .25 caliber. However, from info I have been able to gather so far, I may even have to go on up to a .32 cal. in order to have the barrel rifled. Lots of considerations and calculations involved in making a gun from "scratch". At any rate, I want one that is actually capable of knockin a squirrel's eye out at 90 feet. Now whether I do ever take it hunting, or not, is optional.
Whether you are an actual gun collector, shooter, or just enjoy something that is different - the Pioneer BB76 is sure to catch your eye as an interesting bit of history and ingenuity.
Hugh N. Bodey
B.B/Airgun Web Site: Audrey & Hugh