DiAnna Larson
Western Artist
Back In My Wranglers!

I was looking at my web page and decided to put some new stuff on it, finally! I've got six total, I hope they all come out. These three are my newer cowboy works.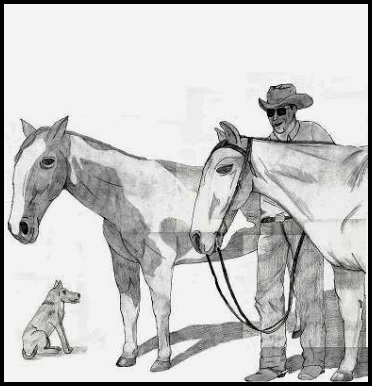 Horses
'Horses' is a 16x20 graphite of JD. I got it off of the pictures on the website.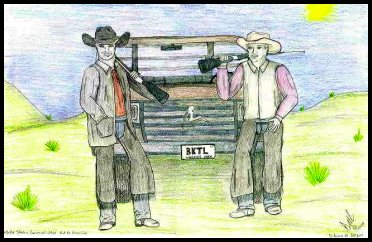 Rut Ro Ranch Inc.
'Rut Ro Ranch' is a 12x18 color graphite. The two guys are close friends of mine that I worked with last summer up in the sandhills. That's usually how we were equipped to go check cows everyday, or to chase coyotes.... The title we came up with is very fitting because between the three of us we were always breaking something (the boss's name was Rut!).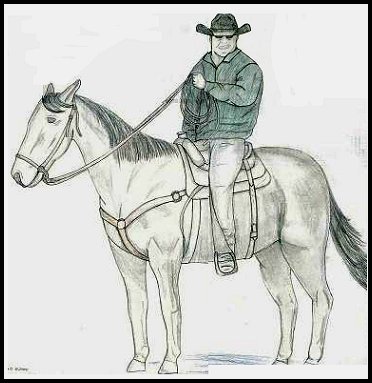 Waitin' On Joe
It's a picture that I ran across and liked and a few minutes later there it was!
---
Supporting The Troops
---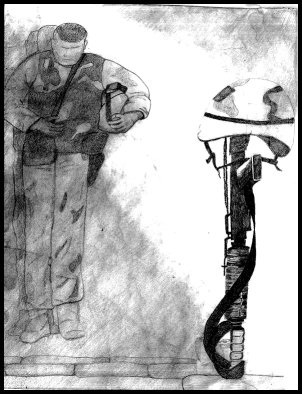 Last Respects
I wasn't much for the whole military thing, but I now have several good friends over in Iraq so I decided to show my support to them by drawing pics that they send to me or that I find. 'Last Respects' was sent to me to draw, I got a lot of comments on it, it hit most of them pretty good, but they liked it. It's a 11x14 graphite.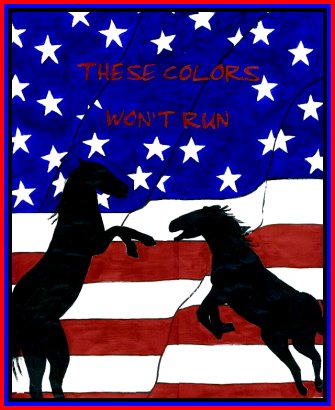 These Colors Won't Run
'These Colors Won't Run' is one of my favorites that I've done overall. It's a 16x20 acrylic. The first person I showed it to, his mouth hit the ground, he loved it.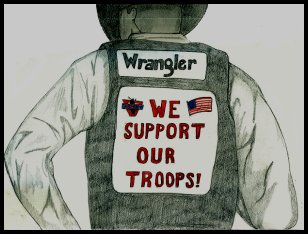 Troops

'Troops' I had about the same reaction. I hadn't talked to the same friend since he'd gone over to Iraq and I was on my messenger and this was the first thing he saw when I clicked on him, he said it hit him pretty good, being a Nebraska cowboy out in the middle of the desert, he really liked it. It's an 8x11 graphite.

DiAnna's email is wranglergirl_2001@yahoo.com.

More drawings by Dianna Larson